ORDER SHIPMENT TRACKING
Add shipment tracking information to your Craftrina orders and provide your customers with an easy way to track their orders. 
Add shipment tracking info to orders – shipping provider, tracking number and shipping date 
Add multiple tracking numbers to orders 
Select shipping providers to use when adding tracking info to orders 
Display shipment tracking information and tracking link on customer order emails 
Choose on which Customer emails to include the tracking info. 
Custom order statuses – Delivered, Partially Shipped, Updated Tracking 
Adding Tracking Info to Orders
On the Order screen, you will see a Shipment Tracking panel for shipment information: 
To add shipment information for the customer to be able to track orders:
Choose a shipping provider – this should be the shipping company you use. If your provider is not listed, contact us and we will add it.

 

Tracking number – add the tracking number that the shipping provider assigned. If you chose the custom option, you need to enter the full link to the company's tracking page (if applicable).

 

Choose shipping date (optional) – which is when the package was shipped.

 

Test the preview link to see if it works as you expect.

 (optional)

 

Save tracking – Tracking info will be saved into the order, this will not 

affect

 the order status.

 

Add additional tracking numbers by clicking Add Tracking Number.

 (optional)

 
Now, you are ready to change the order status to Complete (shipped). Marking the order as Shipped will send the Shipped (Completed) Order email to the customer with the tracking info. 
Adding Tracking information to orders: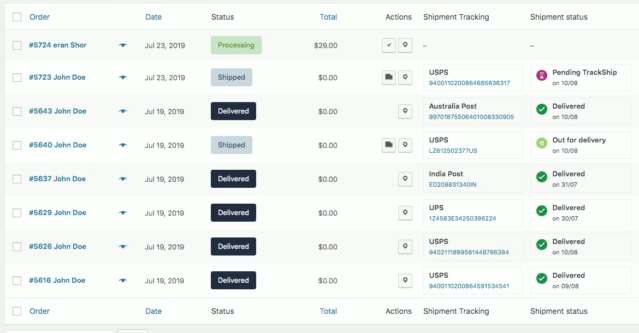 Tracking Info Sent to Customer
The shipment tracking information will be sent to the customer in the order as 'Completed' (Shipped) emails and will also display in the customers 'My Account' under. The tracking link directs the customer to the shipment tracking page on the shipping providers website. 

The shipment tracking will display on the top of the order status page:
Didn't find what you were looking for?
Shoot us a message and we'll be happy to help!