Craftrina Seller Reports
Reports in your Craftrina seller dashboard give you the ability to see your shop's performance from month to month using graphs and stats. Performance reports have four sections: Orders, Customers, Stock and Taxes.

To view them your Craftrina shop's performance reports, go to the Seller Dashboard > Reports.
Orders
The Orders section allows you to view gross and net sales volume and totals, as well as top sellers, top freebies, top earners, and product downloads. Sub-sections are shown below.
Note: By default, orders marked Processing, On Hold and Completed are counted as sales.
Sales by date
The Orders tab starts with Sales by Date. This gives you an idea of the current performance via a sales graph. There are a few ways to drill down into the performance data- by:
Year
Previous month
Current month
Last 7 days
Custom date range
The sales graph itself shows the following data:
Gross Sales plotted using a light blue line
Net Sales plotted in dark blue
Shipping Amount plotted in green
Refunds plotted in red
Coupon Values Redeemed plotted in orange
Hovering over a point with your mouse, will give you the exact figure.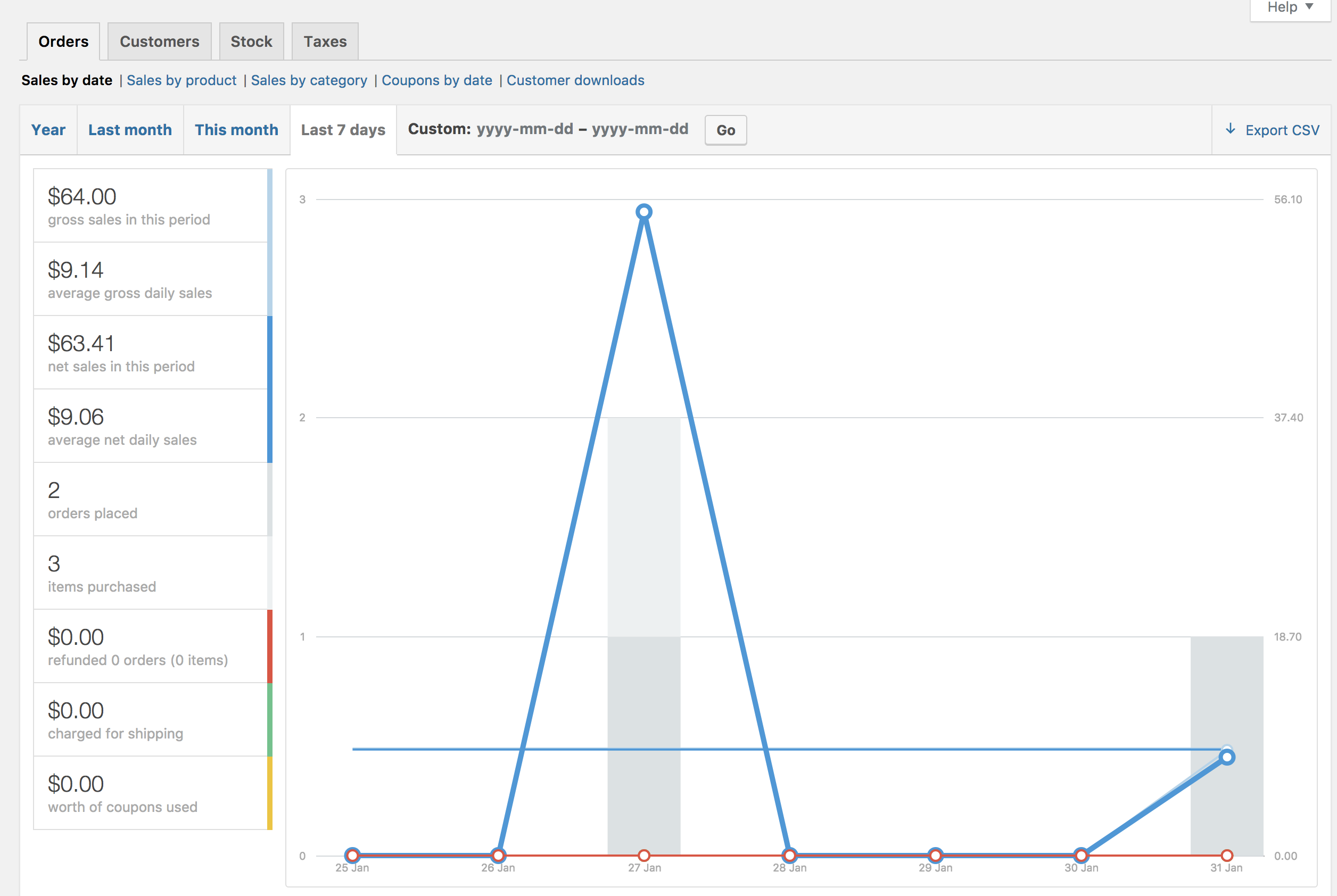 Sales by Product
The sales per product section shows sales per day in a given range, similarly to the overview section: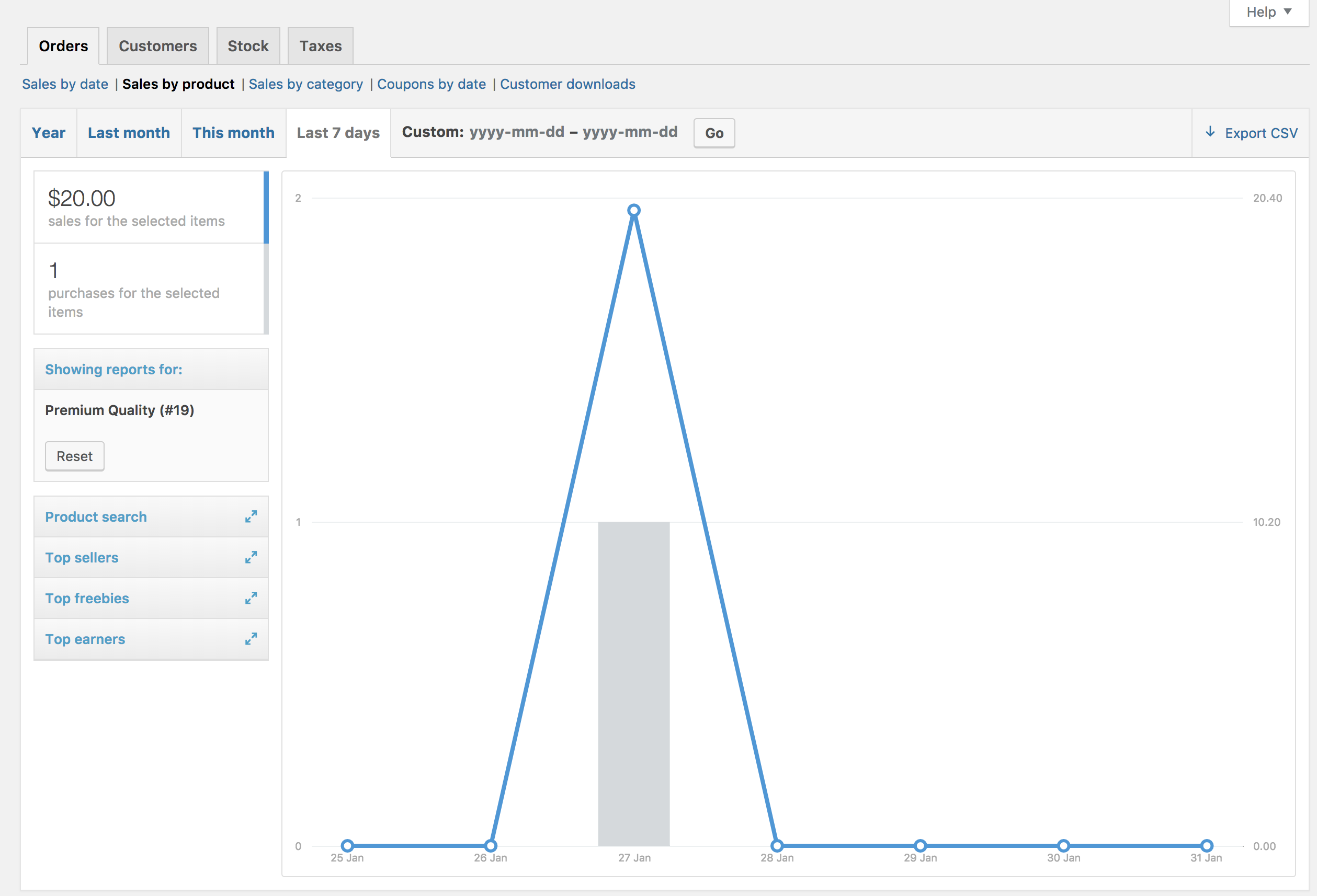 You can select any handmade product from your shop to view sales data, and again drill down into by year, last month, this month, last 7 days, and custom date range.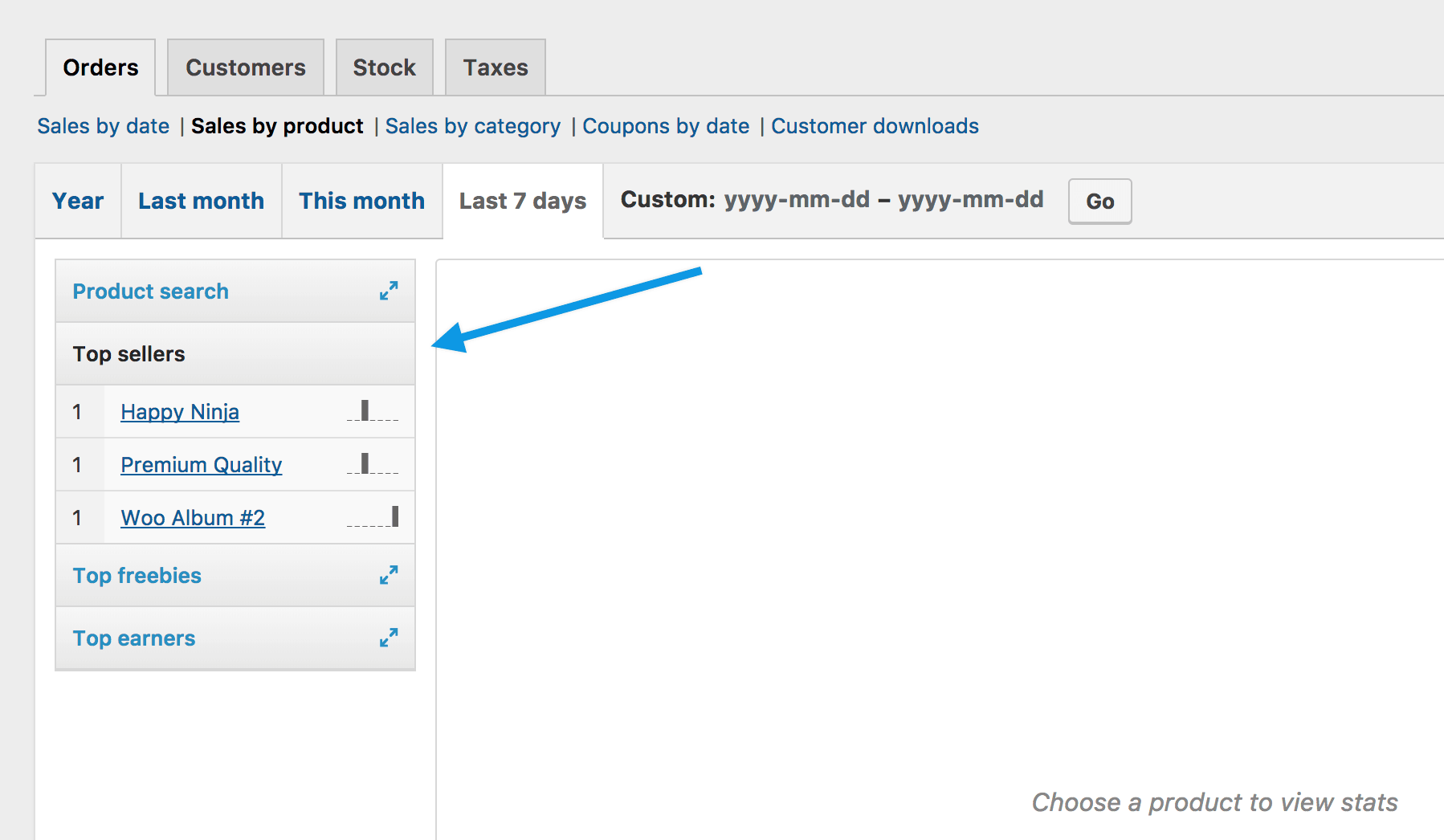 Sales by Category
You can also view sales numbers by categories.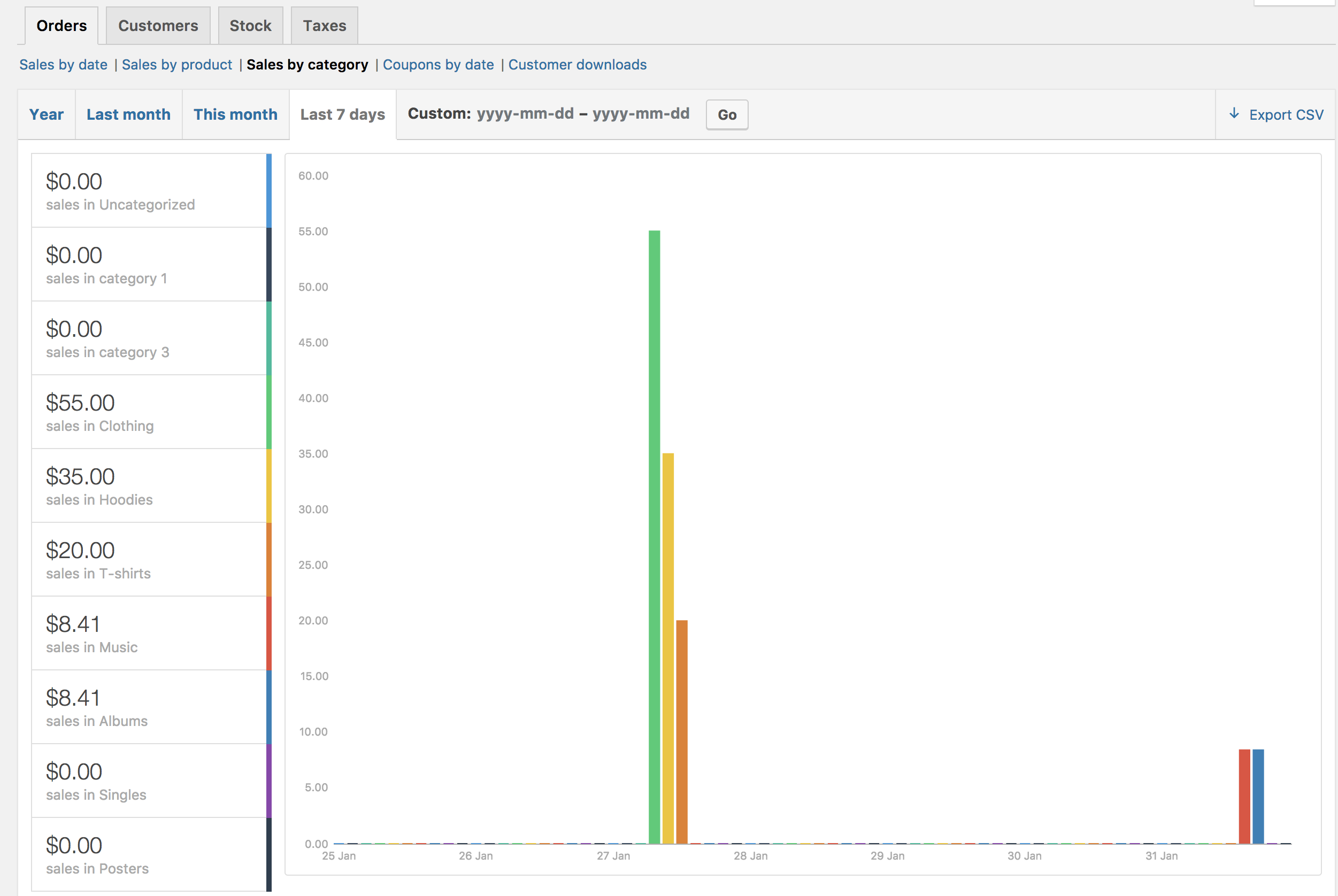 Coupons by date
Coupons by date shows discounts total and number of coupons used, plus provides the ability to filter by:
Coupon
View the most popular coupons
Coupons giving the most discounts
Customer Downloads
Downloads have unique IDs, enabling them to be tracked and logged, and making it possible to view:
When the file was downloaded
Which products
The file name
On what order (clickable link)
Where the customer is located via IP address.

It's also possible to filter downloads by hovering over Product, Order or IP address with your mouse.

Customers
The Customers tab allows you to view reports for Customers vs. Guests and Customer List with options to further sort by year, last month, this month, last 7 days, and custom.
In Customers vs. Guests, customers are paying customer who have registered on Craftrina.
Customer List only shows registered users.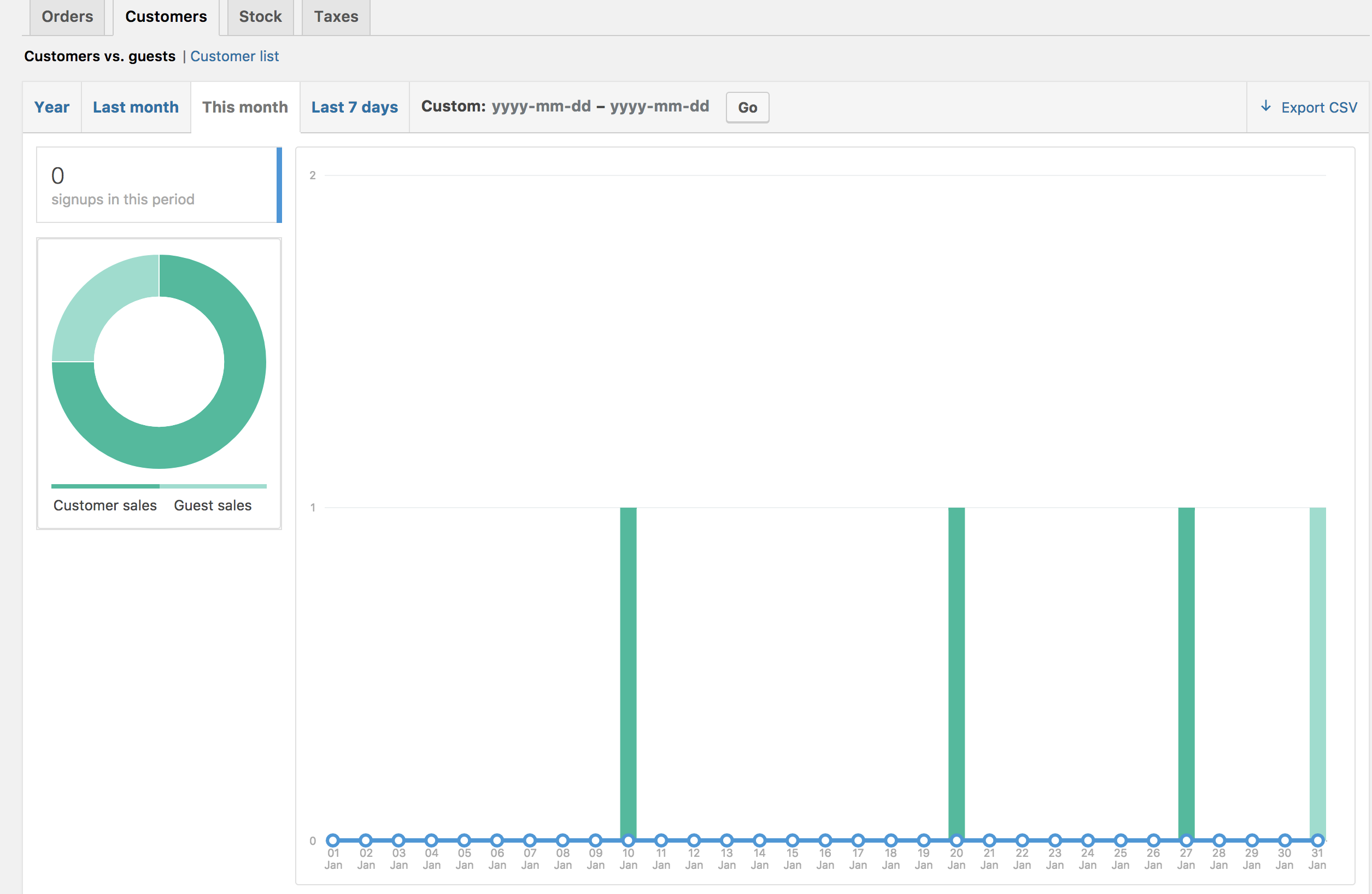 Stock
Stock lists your:
Low stock items
Out of stock items
Quantity left in stock.

Taxes
The reports for Taxes allows you to view Taxes by:
Code (state)
Taxes by date (year, last month, this month and custom dates you enter)


Export CSV
The Export CSV allows sellers to download their reports.
Didn't find what you were looking for?
Shoot us a message and we'll be happy to help!